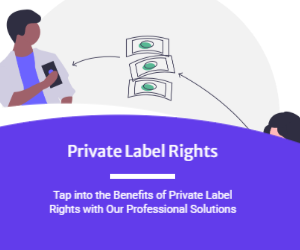 Private label rights, or PLR, refer to content or products that are created by one person or company and then sold to others to use as they see fit. This can be a great way for businesses and individuals to save time and resources by purchasing pre-made content or products, rather than starting from scratch.
Check out my latest product with PLR.
If you're interested in creating a product with private label rights, here are some steps to follow:
Choose a niche or topic that you're passionate about or that has a high demand. This will help ensure that your product will be successful and in demand.

Research the market to see what types of products are already available and how you can differentiate your product.

Determine what type of product you want to create. This could be an e-book, software, video course, or something else.

Find a reputable supplier or creator of private label rights products. Be sure to read reviews and do your due diligence to ensure that you're getting high-quality content.

Purchase the private label rights to the product and customize it to your liking. This may involve adding your own branding, changing the layout or design, or adding additional content.

Test the product to ensure that it meets your standards and the needs of your target audience.

Launch the product and start promoting it to your audience. This could involve using social media, email marketing, or other tactics to get the word out.
Creating a product with private label rights can be a great way to save time and resources while still offering a high-quality product to your customers. Just be sure to do your research and choose a reputable supplier to ensure the best results.